Posted on
By Fray Fitness
Best Way to Get Your Glutes Fired Up
The Fray Glute Trainer is the ultimate exercise machine to safely build your glute muscles. The machine acts as a strength trainer for the hip joints and tissue, providing them a full extension. This exercise targets all glute muscles, including the largest muscle group known as the Gluteus Maximus muscle which also works as a pelvis stabilizer. When the glutes are weak, the additional pressure carries to the lower back, knees, and feet. If you're trying to perfect your squatting form, glute training can also prevent you from tilting forward and guarantee to spread the weight evenly on all desired muscles.
Besides, gluteal muscles are the key to a healthy posture. While the primarily targeted muscle group are the gluteal muscles, the machine also works both hamstrings and lower back. Glute muscles are often overlooked and sometimes inadequately trained, despite them being an important part of any athlete's performance.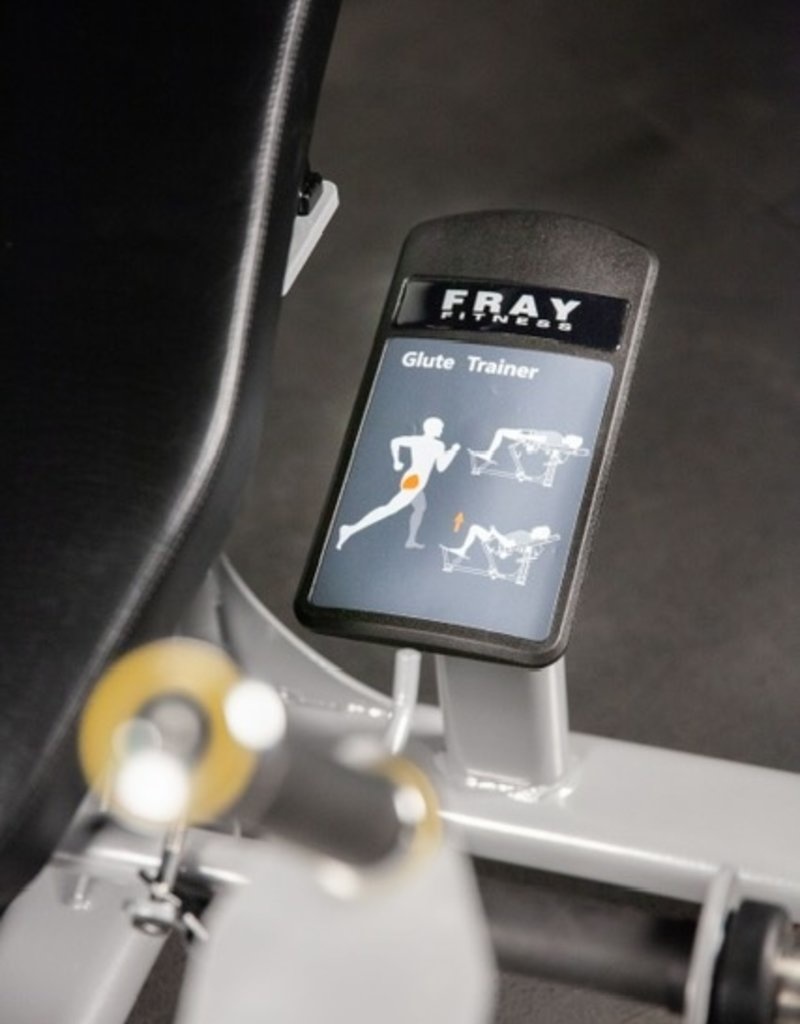 Who can benefit from the Fray Glute Trainer?
Any athlete that is at risk of hip injuries could benefit from the Fray Glute Trainer. Weak glute muscles often causes hip soreness, tightness, and poor mobility, which can ultimately cause damage during training or performance.
Sprinters and Runners
According to Sports Health Journal, when high-impact sports-related activities are factored in, the hip joint bears substantial load and is prone to injury. For sprinters and runners, that load is inevitable with the nature of their sport. Running is an endurance sport that can cause injuries to the neglected muscles, in particular, glutes. Some studies even link glute weakness to Achilles tendinitis, shin splints, runner's knee, and posterior hip pain. Those are some common conditions that can be caused by neglecting glute training for runners. It can also prevent them from their highest performance. The lack of gluteal extension prevents runners from powerful strides and acceleration.
Cyclists
Cyclists don't build their glutes by riding, but glute muscles do help them stand, sit, lift, and climb during biking. Strong glutes can help with back pain that is often experienced by some cyclists. Developing more athletic glutes can take away some pressure that goes into quads and hamstrings of the athlete.
Bodybuilders and Powerlifters
Even though these two might be the obvious ones to love a glute exercise on a leg day, nevertheless they often lack exercises dedicated to strengthening them. Weak glutes don't exactly mean weak squats or deadlifts, but they definitely mean less safe. This also means that if you want to target and build specifically your glute muscles, it can't be done just by doing squats. 
Football, Basketball, and Soccer Players
Just like runners, other athletes with extended running and muscle exhaustion in their routine can enhance their athletic achievements by using our Glute Trainer. These sports are also known for their potential injuries whether it is on the field or the court. Top muscle performance for the whole body is necessary to compete in these sports and keeping it safe.
The Rock
Since the Rock enjoys good hip-thrusting exercises in his workout routine, we think our Glute Trainer will be a great addition to his home gym.
Building a perkier booty is not only an art but also a healthy choice to take care of your biggest muscle. Your glutes need your support because they have been supporting your hips and pelvis all this time. So check out our Fray Glute Trainer, which is constructed with industrial grade 11 gauge steel and industrial strength bearings. This is built to last and backed by an amazing 10 year full warranty on structural frame and welds. Top notch upholstery and a reinforced waist harness for maximal lifting. 400 pounds of weight can be added to the pegs for increased difficulty.
Drive your glutes with our brand new Glute Trainer!